Fiberglass Plisse Mesh Panels: Pleated Window Shading Screen Netting for Retractable Window Screen. Foldable Mesh Panels in Charcoal Black and Silver Grey Colors.
Plisse Mesh Window Screening is mainly used in hotels, public buildings, civil residences against bugs, pets and insects.
We can supply retractable insect screening products made of various mesh materials: Galvanized mesh, Stainless Steel Mesh, Aluminum Insect Screening, Plastic Screening, Fiberglass Screening and other materials. Fiberglass mesh is the most popular for pleated mesh screen processing with the feature of high tear resistance and flexibility.
Innovated fiberglass plisse mesh panels are designed for various window frames. The frame can be aluminum or other metals. Plisse fiberglass mesh with charcoal black coating has straight panels and excellent corrosion resistance suitable for heat and moisture environment.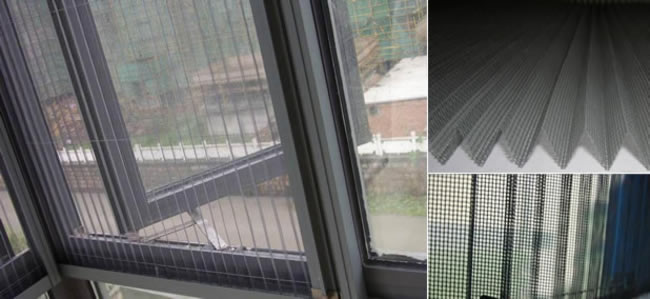 Silver Grey Pleated Fiberglass Mesh Panels for Retractable Aluminum Window Frames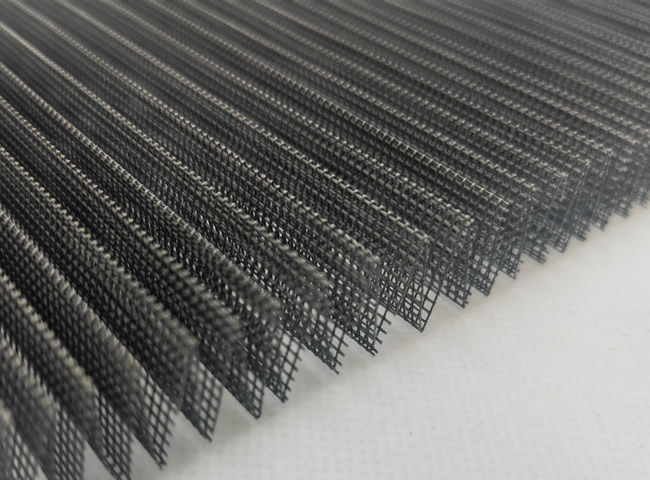 Charcoal Black Fiber Mesh Fabrics for Plisse Mesh
Retractable Window Screen
Retractable Screen is also known as insect Screen or fly screen for Casement windows screening. We supply retractable window screen mostly made with fiberglass mesh fabrics or aluminum mesh.
Features & Benefits:
Retracts out of sight when not in use
Provides protection from insects and UV rays
Allows full ventilation and durability
Ensures years of trouble-free operation
Adapts to virtually all door applications and sizes
Comes in a variety of popular, designer colors and finishes to match any décor
Guarantees additional peace of mind with the Limited Lifetime Warranty
Retractable insect screen is used as Double-French doors, single in-swing and out-swing doors, sliding patio doors and oversized doorways.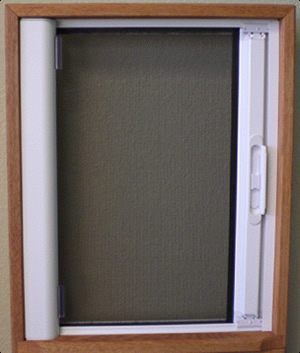 Fiberglass Netting Specifications:  
Variety
Specification
Technical Notes
Mesh/Inch
Wire Gauge
Roll Size

Plisse Fiberglass Screen

12 x 12

BWG31
BWG32

3"x100"
4"x100"
1x25M
1.2x25M

Available in different colors

14 x 14

16 x 16

16 x 14
Other Mesh Materials we Supply for Window Screens:
Wire Materials: 304 304L 316 316L, Mild Steel Wire, Stainless Steel Wire, Al-Mg Alloy Wire, Galvanized Iron Wire, PVC Wire, Aluminum Wire, Chemical Fiber and Glass Fiber.
Standard Mesh/inch: 20×20, 18×18, 18×16, 18×14, 16×16, 16×14, 14×14, etc.
Standard Colors: Gray, black, white, green, yellow, gray-white, mix, etc. (inquire about the availability of other colors)
Standard Width: 5''-110''.