Plaster Mesh Stucco Netting: Fiberglass Drywall Mesh Tape and Fabric, Applied for Concrete Wall Plastering and Rendering. Alkali Resistant Stucco Plater Mesh Cloth.
Fiberglass drywall plaster mesh is a latex coated fiberglass net fabric, used for drywall work and plastering repair. The fiber plaster stucco mesh has a unique cross-fiberglass construction to provide greater joint strength than conventional fiberglass mesh tapes. Plaster or Stucco Mesh has two forms of supply: Tape rolls or cut pieces. Fiberglass tapes can be used directly as stucco mesh in general wall coating plastering and stucco works. The square hole fiberglass mesh pieces can be bonded to the perforated steel angle bead as mesh wings for plaster trimming works, especially for corner plastering.

Plastering drywall tape is widely used in joining plaster plates, mending drywall cracks and piecing together and making up different kinds of plates. It goes on faster, adheres better, and requires no pasting or stapling. It will not tear, shrink, stretch or bubble, while it hides joints, cracks and holes permanently. Jumbo rolls available.
Product Size / Rolls per carton
50mm×20m(2"×65") / 72
50mm×45m(2""×150")/ 54
50mm×90m(2""×300") /24
50mm×153m(2""×500") /24
45mm×20m/ 72
45mm×45m /54
45mm×90m /24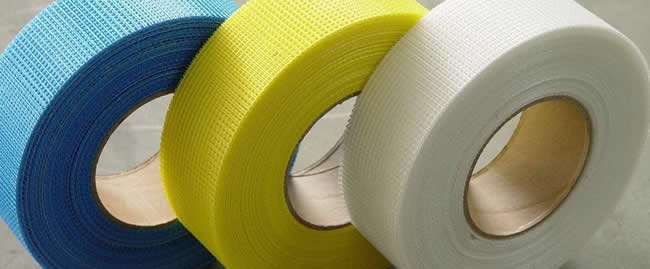 Stucco Fiber Mesh Material of Unit Weight 145g, and Other Sizes
Fiberglass tape made of vinyl coated fiberglass mesh has the following features:
1. Good performance of alkaline-resistance
2. High tensile strength and deformation-resistance
3. Excellent self-adhesive performance
4. Simple and easy to be applied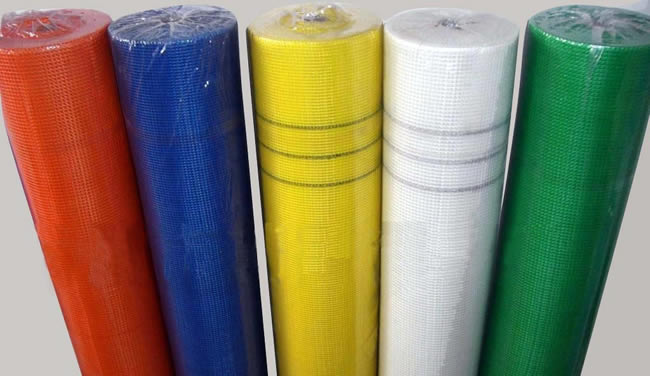 4X4mm, 5X5mm, 10X10mm Fiberglass Plater Mesh with high tensile strength
Wall Plaster Reinforcement Mesh Tape
The Adhesive Fiberglass Plaster Mesh is made with C-glass or E-glass woven fabric as base cloth, coated with acrylic acid copolymer through heating and bonding with quality adhesion material.
Plaster or Stucco Fiberglass Mesh is popularly used for reinforcing of wall plaster, mortar coatings, concrete and finishing of insulation systems (ETICs – EIFS base coat fabric materials) in buildings. It comes to help solve the crevasses and hairline cracks problems often occurring with old or new plaster coatings in the concrete constructions.
Installation and Practical Uses of Fiberglass Net Plaster Reinforcing:
Fiberglass mesh is cut to strips or tapes then applied to reinforce coating on inside and outside walls, floors and ceilings in modern masonry and concrete constructions. The fiberglass reinforcing mesh stripe is laid over the wall (or over the insulation panels) and fully imbedded in the base coat. Thanks to the high tensile strength and elastic properties of the fiberglass the overall resistance and durability of your coating will be highly improved.
Fiberglass Tapes has several benefits Used as Wall Plaster Reinforcement Mesh:
Light weight
Stress resistance and impact resistance
Cracking prevention
Alkaline resistance, erode resistance
High strength
Stabile size structuring
| | |
| --- | --- |
| | |
| Wall Plaster Rendering Coated Mesh Grid for Corner Beads Wings | Concrete Wall Base Coating Stucco Nets |

Alkali Resistant Fiberglass Mesh Wings for Perforated Corner Beads
Angle Bead have a smooth round nose bead with diamond or square mesh wings for the keying of plaster right up to the nose of the bead. On the outside is the finished edge which is where one side of your drywall knife runs on when you are applying drywall mud.
Plastering corners with mesh wings help the walls to create true and straight corners. It provides strength and protects the wall against chipping and cracking.
Technical Information Applied for Plastering Beads Wing Mesh Pieces: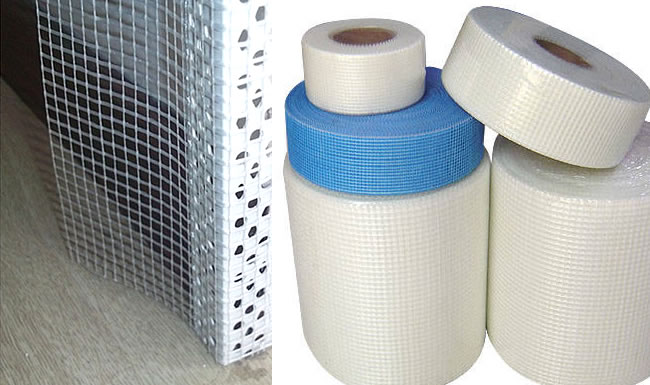 Material: E-glass or C-glass
Color: white(standard), blue, green and others
Structure: Leno Weave Square Mesh
Weight: 145-530g/sqm
Counts: 6x6/inch, 5x5/inch,4x4/inch
Width: 1m
Roll length: 50m or Subject to buyers' requirements
Adhesive: Subject to buyers' requirements, standard product have no adhesive
OEM according to specifications